Generally, I research books quite heavily before I pick them up. There has to have been a good review, a personal nomination or a blurb/cover/extract that's really blown me away. I don't know quite how Prince of Thorns ended up on my Kindle. I purchased it months ago, seemingly on a total whim, knowing nothing about it other than it was a fantasy novel and increasingly popular.
I also generally only have one or two unread books at a time and read them almost as soon as I buy them, so it's also odd that this one hung around so long, getting passed over every time for something new that caught my eye. I guess a new fantasy series just feels like a major commitment, and it wasn't one I felt willing to make.
After a run of books I really didn't enjoy (notably We Are All Completely Beside Ourselves and Kiss Me First) I finally got around to giving this one whirl, still knowing nothing about it and not having even read the blurb. This was Saturday morning, lounging in bed. By Saturday night, I'd finished book one, started book two and forced my husband to start reading it (he liked it too – I'm a great wife!).
PRINCE OF THORNS – Mark Lawrence – 5 Stars
(Now I've pasted it, I actually blame this cover for my delay in reading this book. See this old post for my checkered history around books featuring hooded men with big swords, two of which I've just realised are actually referenced in this review – fantasy cover designers, please try to branch out!)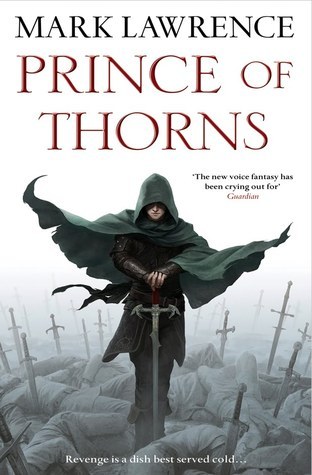 The opening chapter of this book involves a band of brigands slaughtering most of the male inhabitants of a village, raping their daughters, looting the corpses and then setting the whole place on fire. All of them seem to be having a wonderful time, particularly the deeply sinister first-person narrator.
Having picked this book up without knowing anything about it other than that it was a highly recommended fantasy novel, I wasn't sure what to make of this attention-grabbing but disturbing opening. Had the author written a prologue that was broadly unrelated to the rest of the novel to set the scene and demonstrate the grimness of his world? Or was the hero going to swoop into the village and be avenged on this bunch of murderous psychopaths? And then, as dying villager muses that his murderer could be no more than fifteen, the chapter ends with the line, "Fifteen! I'd hardly be fifteen and rousting villages. By the time fifteen came around, I'd be King." And I came to a shocking realisation that this sadist was actually our protagonist, the titular Prince of Thorns. Basically, if you've ever read a Song of Ice and Fire and wished that the whole thing was narrated by Ramsay Bolton, then this is the book for you.
The fashion nowadays is undoubtedly for fantasy characters to be presented in moral shades of grey, and often even to be outright anti-heroes. But I've never read anything in the fantasy genre that makes the "hero" so utterly, irredeemably villainous. The closest comparator I can think of is a Clockwork Orange, and the main character, Jorg, did seem to share some characteristics with that books hero beyond his love of ultraviolence – a scene where he sits and reads Plutarch following a massacre particularly jumps to mind. I can imagine some people really struggling with this approach to characterisation, but frankly, I loved it. It made for such a different read and the author did a fantastic job of making me root for Jorg while hating myself for doing so. He also struck a nice balance between explaining his behaviour (trauma and a desire for revenge following the brutal death of his mother and young brother, the need to survive and thrive in a cruel world, a horrible father) without ever excusing it. Jorg is almost painfully self-aware, and makes no excuses to the reader. I have an awful tendency to fall in book-love with villainous characters, but some of Jorg's specific actions as well as his overall attitude to life were sufficiently beyond the pale that I never got to the stage of liking him. Nonetheless, he fascinated me.
While it's undoubtedly both a clever and a well-executed device, an evil hero is by no means all this book has going for it. The world is interesting, firstly because the concept of a hundred little principalities fighting to seize control of what was once a united empire allows for lots of politics and scheming. Secondly, because what it quickly becomes clear that what as first feels like a classic medieval fantasy world is in fact a post-apocalyptic earth where the survivors have lost the use of technology and returned to feudal ways. And somehow also gained a degree of magic – possibly through radiation left behind by a nuclear war, though that wasn't fully explained. I'm not sure this always 100% worked (why would people replicate medieval norms quite so exactly?) but it added an extra level of interest and distinguished the setting from your average fantasy novel. It did remind me a bit of the approach used in the Book of the New Sun series, where what appear to be towers are actually abandoned spaceships, but that's no bad thing.
The plot is entertaining and flows well. The writing is great. It's not over-clever or pretentious, it simply works. At times it's actually quite funny, if you can cope with dark humour. The violence is ceaseless and at times extreme, but it's never really gratuitous or lingered over. Most of the really bad stuff (the rapes, the torture of a bishop by sticking needles in his brain etc etc) happens "off-screen" and is mentioned in passing by characters, not described in loving detail by the author. I'm not someone who likes to read about violence for violence's sake or who will choose to read a book because it boasts of being "dark." I could never get on with Joe Abercrombie's book, partly because the world depressed me too much, but despite the fact that the world and the protagonist presented here are if anything, even darker, it somehow kept me entertained and almost cheerful, swept along by the sheer energy and enthusiasm of the protagonist. In his absolute determination to succeed in his quest to become Emperor of his fragmented world whatever it takes, he reminded me of Lucifer in Paradise Lost, though unlike Milton, Lawrence knows full well he's of the devil's party.
There are some books I'd recommend to nearly everyone. This is not one of them. If you like clean-cut heroes, shy away from violence or simply want to see some signs of joy and goodness in your fantasy worlds, you should probably stay away. But if you're looking for a very different and original fantasy novel and think you can cope with a dark world and a morally empty lead and a ruined world, this is a great and surprisingly fun read.